Green Woodhoopoe
[Phoeniculus purpureus]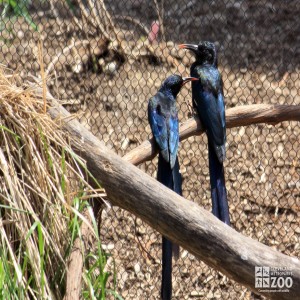 The Green Woodhoopoe is a foot long, slender bird distinguished by its long red bill, its red legs, and its long gradiated tail. It is a blackish bird highlighted by the green iridescent plumage on body, but violet on wings and tail. At end of tail are white wingbars and spots.
Location: African Elephant Crossing - Seasonal
Share:
---
Range
The Green Woodhoopoe is widespread in southern Africa below 15 degrees North except in arid and southwestern portions.
---
Habitat
The Green Woodhoopoe inhabits Forest and wooded savanna.
---
Conservation Status
Least Concern
---
Primary Threats
---
Gestation
Breeding season for the Green Woodhoopoe is August to October in tree holes in 18 days.
---
Litter
3-5 chicks
---
Behavior
Green Woodhoopoes live in pairs or forage in trees as is or in small groups. When foraging, they have a loud cackling cry that ends in crescendo. Their home is a tree hold. Act like tits and woodpeckers in tree foraging.
---
Reproduction
Incubation is done by the female and fed by her mate. Green Woodhoopoe chicks are fed by the pair and fledge at about 30 days.
---
Wild Diet
Larvae and crustaceans found in trees
---
Zoo Diet
---
Tags
---
Documents:
---
External Links: