Greater Malayan Chevrotain
[Tragulus napu]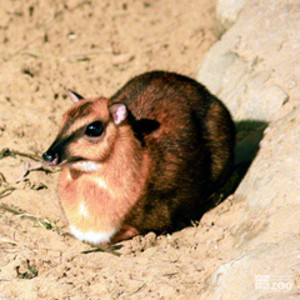 The Greater Malayan Chevrotain has head and body length of 20 to 24 inches. The animal can weigh from 9 to 13 pounds. Chevrotains have a reddish coat. They have a cumbersome build, with short thin legs and have limited agility. Males are smaller than females.
These small secretive creatures are most active at night. Like other ruminants, they have a four-chambered stomach. Their gut is modified for the fermentation of food. They lead a solitary lifestyle and have no horns or antlers. They are easy prey and an important source of food for many predators, including large snakes, crocodiles, eagles and forest-inhabiting cats. These animals are often referred to as mouse deer. The survival of this species depends on the conservation of their habitat and restriction of hunting.
Location: The RainForest Up
Share:
---
Range
The range of the Greater Malayan Chevrotain is Southeastern Asia excluding Java.
---
Habitat
Greater Malayan Chevrotains live in Tropical Rainforests with a preference for rocky habitats.
---
Gestation
Gestation Greater Malayan Chevrotains is approximately 5 months.
---
Litter
Greater Chevrotain litters are from 1 to 2.
---
Behavior
Greater Malayan Chevrotains live either alone or in pairs and are mainly nocturnal.
---
Reproduction
Chevrotains can breed throughout the year. The active young are fully developed at birth, being capable of standing within 30 minutes. Sexual and physical maturity comes at about 5 months.
---
Wild Diet
Grass, leaves of low-bushes, and fruit.
---
Zoo Diet
Herbivore diet, alfalfa, endive, carrot, and apple.
---
Tags
---
Documents:
---
External Links: