Stellar's Sea Eagle
[Haliaeetus pelagicus]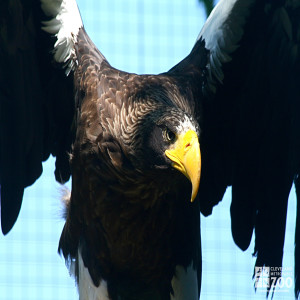 The Stellar's Sea Eagle is the largest eagle in the world. It's immense adult size is detailed with black plumage, white shoulders and wedge-shaped tail. Orange/yellow, very deep and arched bill that is its distinguishing feature. Immature eagles are not as brightly colored. An adult can have up to 8 foot wing span and weigh 20 pounds.
Location: Outdoor Flight Cages
Share:
---
Range
The Stellar's sea eagles range is the coastal regions of northwestern China and Siberia, along Kamchalia peninsula and the Japanese islands.
---
Habitat
The habitat of Stellar's Sea Eagle is along coastal and forested river valleys where fish are plentiful.
---
Gestation
Roughly a 40 day egg incubation period and then 70 days to chick fledgling.
---
Litter
Clutch size: 1 to 3 eggs
---
Behavior
The Stellar's sea eagle's feeding behavior is to perch 5 to 30 meters above the water and then swoop down in a dive. They can also circle 6 to 7 meters above the water and dive. They can also stand in the water, on the bank or an ice floe to catch prey as well.
---
Reproduction
Sexual maturity of Stellar's sea eagles is at about 4 to 5 years. The laying of their eggs occurs generally in the second half of April and early May, depending largely on climatic conditions. Courtship usually happens between February and March.
---
Wild Diet
Principally fish, but will take ducks and some small mammals.
---
Zoo Diet
Fish, Rabbit, Horse Meat
---
---
Documents:
---
External Links: