Henkel's Leaf-Tailed Gecko
[Uroplatus henkeli]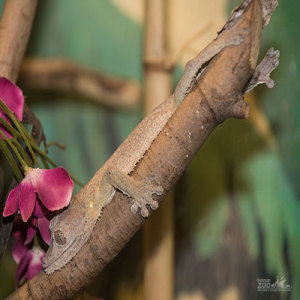 The Henkel's leaf-tailed gecko is also known as Henkel's flat-tailed gecko or the frilled leaf-tailed gecko. They are native to Madagascar. They are the largest of this genus with a total length of 250 to 330 millimeters (10 to 13 inches). They have a triangular shaped head with a snout of 120 to 160 mm (4.8 to 5.6 in). The gecko's tail, feet, and hands consists of specialized plates each bearing numerous microscopic hook-like cells that allow them to cling to smooth surfaces. Their tail is in a shape of a leaf. They are olive green or brown with dark spots, blotches, of flecks, with the underside a whitish color. The eyes are beige or pinkish brown with red spots which gives the overall appearance of a brick red eye color.
Location: The RainForest Lower
Share:
---
Range
The Henkel's Leaf-tailed Gecko primary home is on the island of Nosy Be' near Madagascar, as well as on the mainland of Madagascar, in the region of Ankaranafantsika.
---
Habitat
Their habitat is usually in the trees of a deciduous forest although they have been found in low altitude rainforest. They spend most of their day head downward on small trees.
---
Conservation Status
Vulnerable
---
Primary Threats
---
Gestation
It takes about 90 days for the eggs to hatch.
---
Litter
The female will bury 2 eggs at a time on the forest floor.
---
Behavior
Henkel's Leaf-tailed Gecko is nocturnal, found waiting perched head-down on a tree to ambush prey. During the day, they hide in the shelter of tree hollows or epiphytic ferns. To startle predators they will gape with an open mouth, let out a screeching distress call which helps it escape. The leaf-like tail can be removed and will regrow.
---
Reproduction
The female gecko has two eggs that are buried in the forest floor. The young are pretty much left of their own after hatching.
---
Wild Diet
Henkel's Leaf-tailed geckos are insectivores (spiders and cockroaches are on their diet), but have been known to eat snails if found.
---
Zoo Diet
---
Tags
---
Documents:
---
External Links: