Violet-backed Starling
[Cinnyricinclus leucogaster]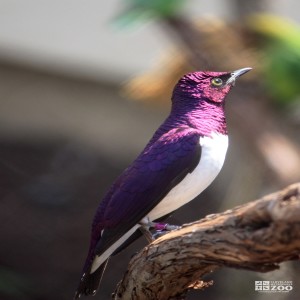 The male violet backed starling is beautiful with a head, neck, back and tail of brilliant purple. The underside is white. The female, however, is drab; the purple of the male is replaced by olive green feathers and the white underside is flecked with green dashes.
Location: African Elephant Crossing - Seasonal
Share:
---
Range
The range of the violet backed starling is Senegal, Somalia, Namibia, and Botswana.
---
Habitat
The violet back starling inhabits open arid riverine woodland up to 2500 meters high.
---
Conservation Status
Least Concern
---
Primary Threats
---
Gestation
Incubation: 12-14 days
---
Litter
Clutch size: 2-4 eggs
---
Behavior
Violet backed starlings are very common and tend to be migratory depending on the season, sometimes in large flocks.
---
Reproduction
Reproduction varies depending on location, but breeding is usually in spring. Violet backed starling nests are in tree or fence holes only 2 to 6 meters above ground. The breeding pair both feed the young.
---
Wild Diet
Mainly fruits and insects on occasion
---
Zoo Diet
Fruit
---
Tags
---
Documents:
---
External Links: