Dove, Ruddy Quail
[Geotrygon Montana]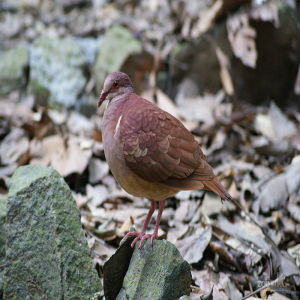 The Ruddy Quail Dove is approximately 9" in length. The male of this species is cinnamon in color and the female, a duller olive brown. Males have a double cheek stripe to distinguish it from the female. They are a shy an unobtrusive forest dove, mainly terrestrial walking with rapid steps and a bobbing head. Because of its large range of habitation, it is not considered a threatened species with an IUCN rating of Least Concern.
Location: Animal Not Currently At Zoo
Share:
---
Range
South America, large range.
---
Habitat
Often on the forest floor beneath fruiting trees where it eats fallen seeds and fruit.
---
Conservation Status
Least Concern
---
Primary Threats
---
Gestation
The incubation for the eggs is approximately 11 days.
---
Litter
Usually there are 2 eggs in the nest.
---
Behavior
If surprised it may flush to a low branch. These birds fly fast with abrupt, bat like swerving, usually low over ground. The ruddy quail-dove has a distinctive cry, almost like a moaning. It is rather long and repeats in 3-5 second intervals.
---
Reproduction
Breeding is from January to June.
---
Wild Diet
Seeds and fruit
---
Zoo Diet
---
Tags
---
Documents:
---
External Links: