Southdown Sheep
[Ovis aries aries southdown]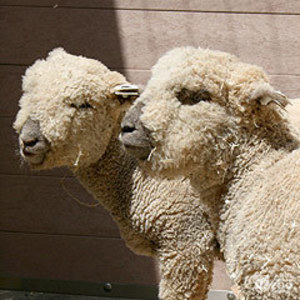 The body of the Southdown sheep is compactly made, very wide and deep with short legs. Mature rams weight between 225 to 250 lbs and mature ewes weigh between 145 to 175 lbs. Coloration varies from gray to mousy brown. The nose is narrow and the ears pointed. Females have two mammae, and are generally somewhat smaller than males.
Location: Kookaburra Station
Share:
---
Range
The range of the southdown sheep is world-wide.
---
Habitat
Generally in association with humans
---
Conservation Status
---
Primary Threats
---
Gestation
144-152 days
---
Litter
1 to 4
---
Behavior
---
Reproduction
---
Wild Diet
Grasses, sedge, forbs, some browse
---
Zoo Diet
Alfalfa hay, sheep and lamb diet
---
Tags
---
Videos:
---
Documents: