Amazon Milk Tree Frog
[Phrynohyas resinifictrix]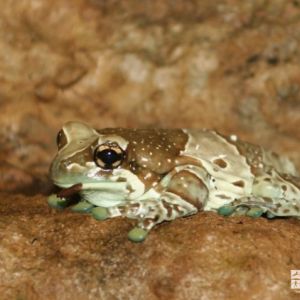 The Amazon Milk Frog is rather large for a tree frog. It is about 2.5 inches in length. Its body is light blue, blue-green or gray with black and brown banding covered with white and dark spots and bumps. As juveniles their patterning is more contrasting and then fades some with age.
Location: RainForest Amphibian Exhibits
Share:
---
Range
Their range is the Northern Amazon region of South America (Colombia, Ecuador, Brazil, Bolivia, Peru, Venezuela)
---
Habitat
Their habitat is the Humid rain-forest canopy, near slow-moving streams.
---
Gestation
Tadpoles hatch in one day; larval stage is approximately three weeks.
---
Litter
Clutch size: 2,000 eggs
---
Behavior
The frog is nocturnal and lives in the rain-forest canopy. They often breed in tree cavities and seldom descend to the ground.
---
Reproduction
Breeding takes place between November and May (the rainy season). The male frog externally fertilizes a clutch of about 2,000 eggs in a gelatinous mass floating in water. The egg mass may also be deposited in water trapped in a tree cavity or in the centers of bromeliads. Eggs hatch in about one day, and metamorphosis from tadpole to juvenile adult takes about three weeks.
---
Wild Diet
Medium-sized insects and other arthropods and invertebrates
---
Zoo Diet
Live crickets and appropriately sized food items 3x weekly
---
Tags
---
Photos:
---
Videos:
---
Documents: